イベント
光FORUM 平成26年度第1回セミナー 開催のお知らせ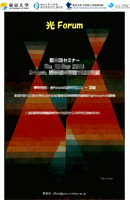 ポスター(PDFファイル)
光FORUMの平成26年度第1回セミナーを以下の日程で開催します。
日時:2014年4月14日(月)10:00~11:30
場所:理学部4号館1320号室

講演者: Brendon O'Leary (Yale University)
講演題目: The ACME experiment: An improved limit on the electron's electric dipole moment
講演要旨
Searches for violations of discrete symmetries can be sensitive probes of physics beyond the Standard Model. Many models introduce new particles at higher masses that generally include new CP-violating phases which are thought to be of order unity. Such phases could generate measurable electric dipole moments (EDMs) of fundamental particles. The ACME collaboration(*) has measured the electron's EDM to be consistent with zero with an order of magnitude improvement in precision compared to the previous best precision. This limit constrains time-reversal violating physics for particles with masses well into the TeV scale. This talk will describe the ACME experiment, its systematic errors, and upgrades that are in progress. (*)The ACME Collaboration: ACME(=Advanced Cold Molecule Electron EDM) is a collaboration between Harvard University and Yale University, led by Professors Doyle, Gabrielse and DeMille. The experiment itself is located in the Physics Department at Harvard.