イベント
光FORUM 平成26年度第4回セミナー 開催のお知らせ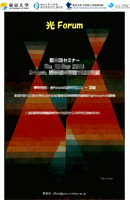 ポスター(PDFファイル)
光FORUMの平成26年度第4回セミナーを以下の日程で開催します。
日時:2015年3月16日(月)13:30~15:00
場所:理学部1号館201a号室

講演者: Professor Daniel Mittleman (Rice University)
講演題目: 「The Transverse-electric mode of terahertz parallel-plate waveguides: new applications」 講演要旨
For broadband terahertz pulses, most of the published work on waveguides has relied upon the TEM mode of the metal parallel-plate waveguide (PPWG), due to its low propagation loss and negligible dispersion. However, the TE waveguide modes can also be useful in a variety of interesting situations, including for sensing and for novel THz components for communication systems. In this presentation, recent work on THz PPWG will be reviewed and discussed, and several new applications of the TE waveguide mode will be described.